From Diary of the American Revolution, Vol I. Compiled by Frank Moore and published in 1859.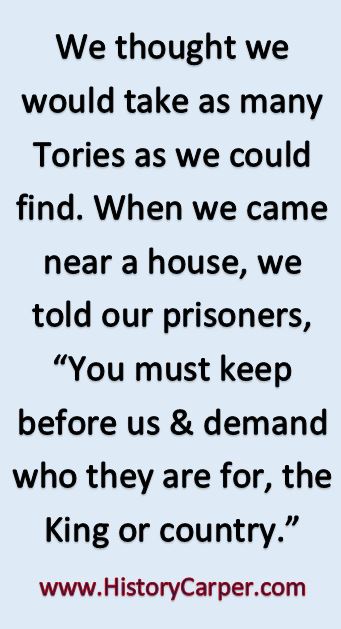 On the late alarm occasioned by the evacuation of Ticonderoga, a number of the Stockbridge Indians marched with the militia of that county, and were stationed with Generals Nixon and Fellows, between Fort Edward and Fort Ann. On the eighteenth of July, General Fellows sent out five of them on a scout to Skenesborough; the next day before sunset they returned with six prisoners, consisting of two regulars and four Tories. The account being somewhat entertaining, we shall give it to the public nearly in their own words, as related by Abraham, who commanded the party. He says: "We passed the creek, and went within a mile or two of Skene's house, where we lay down in a thick spot of woods, by the side of the road. It was not long before there came along two regulars driving a number of horses; we jumped up and seized them; the regulars were so very much frightened that they made no resistance; neither could they speak plain. We found by the noise there were a number more behind driving cattle. One of our prisoners called to the sergeant for help; upon this we thought it wise to make the best of our way into the woods. Our prisoners attempted to get away from us; we were therefore obliged to make them feel that our hatchets were heavy. I told them, "If you will behave like prisoners, we will use you well; but if you don't, we must kill you." After this they behaved well, and did every thing we bid them. On our way to our encampment, we thought we would take in with us as many Tories as we could find; and in order to find them out, we gave our prisoners their guns, taking out the flints. When we came near a house, we told our prisoners, "you must keep before us, and if you see any men you must cock your guns and present them at them, and demand who they are for, the King or country." They did so, and the Tories answered they were for the King, or they should have moved off long ago. They seemed to be glad to see the regulars, and told them, "You are our brothers." I knew one of the Tories as soon as I came in sight of him; I therefore put my hat over my face for fear the fellow should know me till the red coats had done their duty. After he had in a most strong manner declared he was for the King, I asked him further, "Will you be true to the King, and fight for him till you die?" "O yes," said the Tory. Upon this he discovered his error, knew me, and immediately said, "What King do you mean? I mean King Hancock." "Ah," said I; "we have found you out; we don't know kings in America yet; you must go along with us."
When they came near the camp, their war-cry was heard and answered by the rest, who went out to meet them. The prisoners were delivered to General Nixon, and sent to headquarters.1
1 Pennsylvania Journal, September 3.